Chocolate Chip Banana Nut Mini Muffins (gluten, dairy and soy free)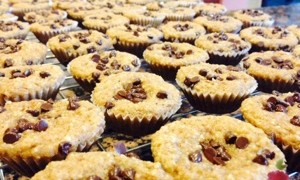 These super moist mini muffins were a big hit at the Palm Springs Eating and Living Groups 2nd Annual Garden Party. Being new to the Palms Springs area, this was a perfect opportunity to introduce myself and the Eating For Wellness gluten free philosophy to the Foodie community.
There are many misconceptions about what gluten is, where it is found and how it affects the human body.
A review paper in The New England Journal of Medicine listed 55 "diseases" that can be caused by eating gluten. (iv) These include osteoporosis, irritable bowel disease, inflammatory bowel disease, anemia, cancer, fatigue, canker sores, (v) and rheumatoid arthritis, lupus, multiple sclerosis, and almost all other autoimmune diseases. Gluten is also linked to many psychiatric (vi) and neurological diseases, including anxiety, depression, (vii) schizophrenia, (viii) dementia, (ix) migraines, epilepsy, and neuropathy (nerve damage). (x) It has also been linked to autism.(ix)
If you are not sure if gluten is affecting your health, consider doing a supervised 30-day elimination protocol or specific lab testing to rule gluten sensitivity or intolerance. Knowledge is power when it comes to our health.
Chocolate Chip Banana Nut Mini Muffins
Dry Ingredients
2 cups Cashew or almond flour
1/4 cup Coconut flour
1 tsp Baking soda
1 tsp Baking powder
Wet ingredients
6 Eggs
1/4 cup Coconut sugar
1/4 cup Coconut oil
5 over ripe Bananas
1 Tbsp Vanilla
For topping
Package of Enjoy Life mini chocolate chips
Directions
Add dry ingredients to large mixing bowl. Add wet ingredients to blender and blend until smooth. Add wet ingredients to dry and mix until well incorporated. Let rest for 30 minutes.
Scoop into mini muffin tins lined with papers using small ice cream scoop. Top with 1 tsp of chocolate chips.
Bake in 350 degree oven for 10 minutes. Let cool in tins for 10 minutes and then remove to wire rack for an additional 30-60 minutes.