What is the Premium Starter Kit?
What is the Premium Starter Kit????
The Premium Starter Kit is Young Living's most comprehensive essential oil kit for those wanting introduce themselves to the benefits of essential oils. It is the toolbox of essential oils.
This Premium Starter Kit is the perfect option for those who are serious about transforming their lives, have specific health concerns, want a chemical free alternative to personal care products or who want to reduce the amount of toxins in their homes. Also great for families with children and pets as Young Living has a KidsScents and PetScents line of products.
The 11 most popular essential oils are included in the Premium Starter Kit: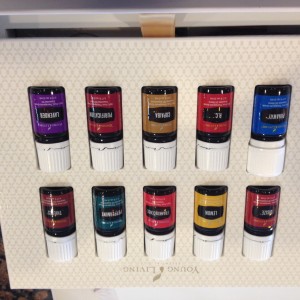 Premium Essential Oils Collection:
Lavender 5-ml known as the Swiss Army Knife of Essential Oils has hundreds of uses but is best known to help promotes restful sleep.
Peppermint Vitality™ 5-ml perfect for brightening your mood or settling your tummy
Lemon Vitality™ 5-ml great to use around the kitchen whether to freshen the air or add to a meal
Copaiba Vitality™ 5-ml is the MAGNIFIER of the group; intensifying the effect of anything it is used with
Frankincense 5-ml is known as a Biblical oil as it's mentioned as one of the anointing oils; it's also excellent for healing skin issues and can help reduce inflammation through the body.
Thieves® Vitality™ 5-ml has a long history of being protective to those exposed to deadly germs and staying healthy. Immune strengthening and uplifting.
Purification® 5-ml is the odor killer of the bunch. Kitchen, bathroom and other smelly areas are much improved by Purification.
R.C.™ 5-ml is for respiratory issues. Great for nasal or chest congestion cause by illness or allergies.
DiGize™ Vitality™ 5-ml is for digestive issues. Helps relieve feeling of gas, bloating and indigestion.
PanAway® 5-ml is great for everyday minor aches and pains; it's helpful for headaches and stress related tension.
Stress Away™ 5-ml is my all time favorite as it reminds me of a Spring breeze in a bottle. It is light, fresh and soothing to the spirit.
The first 5 people to sign up for their premium starter kit during the month of January will be eligible for a free gift at the time of their sign up.
See January Giveaway post for details.
If you are interested in getting started:
1. To purchase your Premium Starter Kit: Order Here
2. Contact me via email: eatingforwellness@yahoo.com
3. Contact me by phone: 213-822-2634
4. Watch Online Discovering Essential Oils Class

Enter code: 3549507