Wild Boar & Venison Stuffed Peppers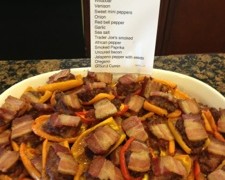 These were a big hit at the Weston A. Price Foundation Temecula Potluck held at Primal Pastures last month.
Ingredients
Meat
1 pound Ground Wild boar
1 pound Ground Venison
1 pound Uncured bacon
Produce
2 packages Sweet mini peppers
1 medium Onion
1 medium Red bell pepper
1 small Jalapeno pepper with seeds
Handful of fresh cilantro
Spices (use as much or as little as your taste dictates)
Garlic powder
Sea salt
Trader Joe's African smoked pepper
Smoked Paprika
Oregano
Ground Cumin
Preparation
Remove tops from peppers and slice in half. Arrange on baking sheet lined with parchment paper and set aside.
Add remaining produce and spices to food processor and blend until desired consistency.
Add mixture to ground meat and combine well. You may not need all the produce mixture so add just enough to combine well with meat.
Stuff peppers with approximately 1 tablespoon of meat mixture and top with 1/4-1/3 slice of bacon.
Bake in 350 degree oven for 25-30 minutes or until bacon is completely cooked.