What's Cooking at The Retreat: A Typical Day…
I get many questions about a typical day or week at the Eating for Wellness Retreat so I decided to take you along on one of my typical hunter/gatherer days. I usually drive from Los Angeles to Desert Hot Springs on Wednesday afternoon which allows me to shop for vegetables and fruit at one of many local farmers's markets. This week was different because I was in Austin last weekend for Paleo FX (more about that in another post) and had to arrange for delivery of the rest of my hog from Cook's Pig Ranch (again more details in another post). I got in late Thursday afternoon, unloaded the truck and spent the rest of the afternoon basking in the sunshine and fresh air! After more than a week away, I was ready to get back to serenity and quiet! My plan was to get to sleep early and get an jump on Friday, my busiest day.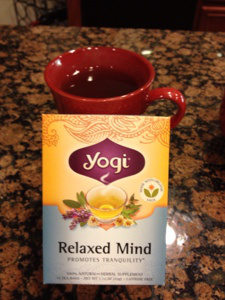 Since completing the 21 Day Sugar Detox in March (another post coming on this), I have remained sugar and dairy free and my energy has been through the roof. Breakfast is usually a cup of tea and my supplements. I started taking Nutreince a few days ago and love the way I feel.
I was on the road by 7:00am for the 65 mile drive to Primal Pastures to pick up 10 dozen farm fresh eggs. These are the most beautiful eggs I have seen and the taste is beyond amazing!
The drive was great but longer than I expected because of fog driving through the mountains. Since I hadn't stopped at the farmers market on the drive in, I didn't have anything fresh in the house. I saw a Fresh and Easy Market and decided to stop. Since I lead grocery store tours, I was sure I would be able to find suitable produce to hold me over until the next farmers market. I was pleased to see a variety of organic fruits and vegetables grown locally. When buying produce from grocery stores I ALWAYS check to make sure where it is grown. It must be grown in the US but I prefer California grown and even look for the most local farm when possible. Being in California, we are blessed to have year round farmers markets and a greater variety for longer portions of the year.
I checked their lamb and salmon to see if anything looked good. I purchase my Beef, Pork, Chicken and Eggs from grass-fed, pastured raised sources but will buy lamb and fish periodically. I bought a nice rack of lamb from New Zealand but passed on the wild salmon as it looked old and not firm. I found some organic raw almond and dried mango which worked perfectly for a new cookie recipe I was thinking about.
After getting back to the desert house, I was hungry for my first meal. This usually happens between 11am and 1pm depending on how much fat I've eaten the previous day and whether it was a hard or easy workout day. I find since removing sugar and dairy, I'm no longer ravenous in the morning.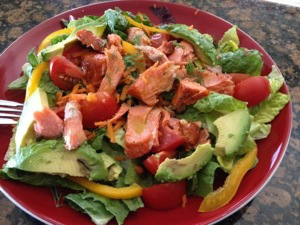 After lunch, it was time to tend to my kombucha. I put up 2 gallons before I left for Austin so they had been fermenting for about 10 days. I bought fresh ginger and organic Cuties for the second ferment and flavoring.
Then it was on to butchering the chicken I defrosted to make chicken bone broth (another post) and 6 other meals for the week.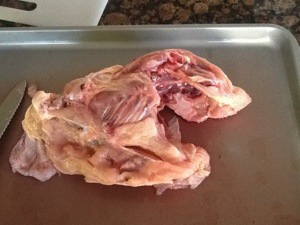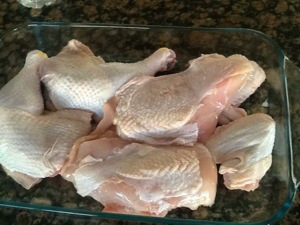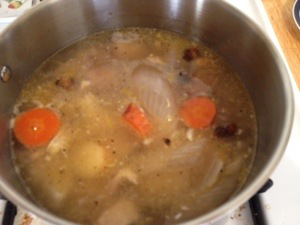 Time to start dinner….decisions, decisions! It's always hard to decide when I have a fully stocked house but since it was nearly 6pm, I opted for my favorite, Grilled Chicken Fajitas with Guacamole ( recipe to follow).
It was delicious!!!
After cleaning the kitchen and settling in to watch recorded episodes of Grey's Anatomy and Scandal, I decided to get this new cookie recipe out of my head and see if it would actually work. Most of my recipes start off as a random thought while watching TV. I'm going to save the actual recipe for another post but think coconut mango Lara bar but better!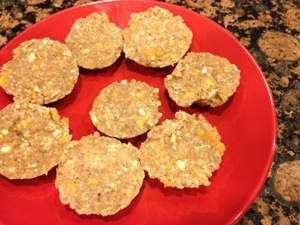 I ate 4 of these yummy treats before falling asleep!!!
So there you have it….a typical day!
Want to find out more about the Eating for Wellness Retreat or anything you read in this post, please contact Jackie Chatman, Certified Holistic Nutrition Consultant